Postet av Hedmarken Curlingklubb den 21. Aug 2021
Stange curlinghall er i år fem år - i oktober. Det må feires med turnering! Nå er det slik at vi i Hedmarken Curlingklubb som regel har én turnering i måneden, og i oktober er det som regel vårt internasjonale innslag, Norway Open.
Norway Open er for lag som spiller mixed doubles, altså en dame og en mann. Turneringen startet i det små for fem år siden, men har etter hvert vokst seg ganske stor. Den har også for vane å tiltrekke seg flere høyt rangerte lag fra mange land, men hobby curlere får også prøve seg. Derfor er også "open" en del av navnet.
Fjorårets vinnere var Kristin Skaslien og Magnus Nedregotten, som er rangert helt i verdenstoppen.
Les mer om og meld deg på til Norway Open her.
Norway Open er også en del av Nordic Mixed Doubles Curling Tour.
SAME MESSAGE IN ENGLISH:
Stange curlinghall is five years old - in October. That has to be celebrated with a tournament. Because Norway Open is our October event it will be our anniversary tournament.
Norway Open is a mixed doubles tournament, one female and one male. It started out small five years ago, but has grown bigger. It attracts highly rated teams from different countries, but also amateur curlers. Hence the "open" part of the name.
Last years winners was Kristin Skaslien and Magnus Nedregotten, who are at the top of the international ranking lists.
Read more about and enter Norway Open here.
Norway Open is also part of Nordic Mixed Doubles Curling Tour.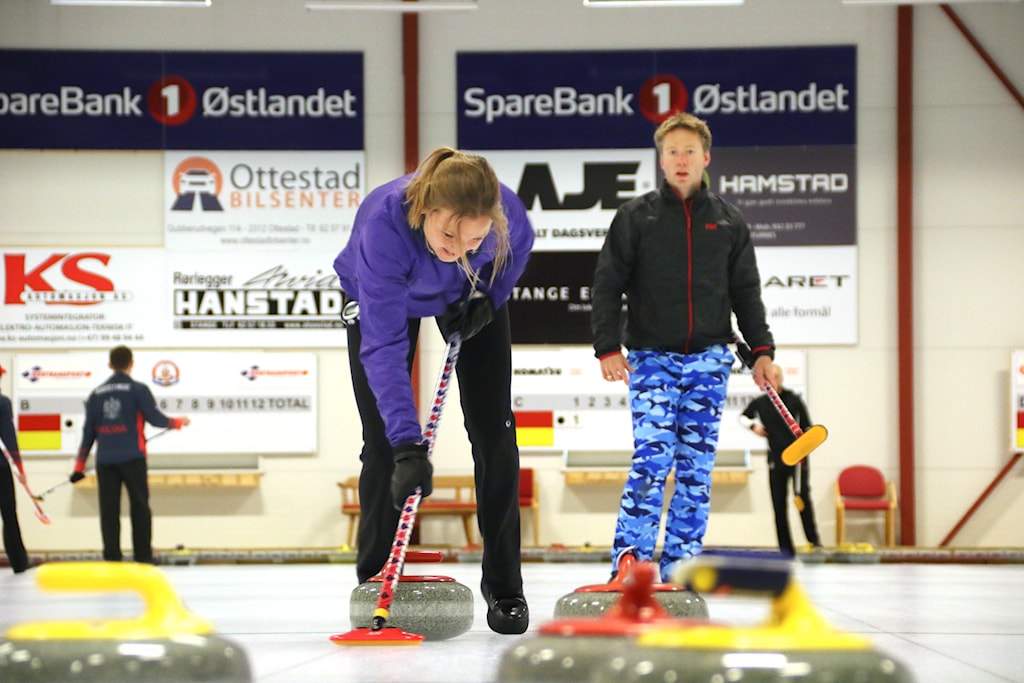 Marianne Rørvik and Torger Nergård are among the regulars at Norway Open. Photo by HCK
---
Kommentarer